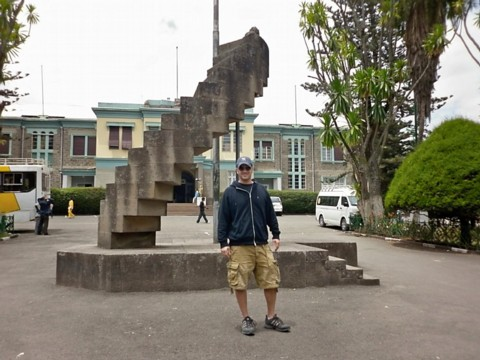 My fourth time in Addis Ababa, Ethiopia in the last 4 years was easily the best and certainly the most interesting. Addis Ababa is the fourth largest city in Africa and is also one of the nicest. It has nice and welcoming people; it is relatively clean, orderly and has much less traffic than some other giant African cities. Addis is also home to many of Africa's biggest meetings between African heads of state, African organizations and International Non-Governmental Organizations (NGO's) and the United Nations. All of these meetings generally take place at the Sheraton Hotel in Addis, which is where we based ourselves for our two nights in the city.

My Uncle and I arrived early from Khartoum and headed straight to the gorgeous Luxury Collection Sheraton Hotel (below). Through my Starwood platinum status we were given a complimentary suite and were thrilled. So after having much needed showers, we were to head straight to attempt to find the Somaliland Liaison Office that is mysteriously located somewhere in Addis Ababa. However, as we went outside the hotel to get a taxi, I noticed something.


To my immediate left I see a ton of cops and security looking people with ear pieces in. I also noticed a maroon stretch old school limo with a Zimbabwean flag on the front of it. Yes I am a weirdo who knows all the flags! So my immediate thought is that it must be President Robert Mugabe's limousine and he is staying at the hotel or has a meeting here or something. I ask one of the hotel workers what was going on and about Mugabe and he tells me yes he is here. Without saying anything else, the guy says, "Why do you care, he is a very bad man?" Shocked at first, but not after thinking about it, I replied that I know he is a bad man but I was just curious if it was his limo as I wanted no part of a heated political debate.
I then went to my Uncle all excited about the fact that one of the world's most notorious assholes is in our hotel and would be coming out soon. My Uncle then got excited as we weren't expecting this and then we tried to figure out why he'd be here. I suggested that they might be having a conference to discuss the situation in the Ivory Coast or Libya and how they want to handle it. Sure enough, two minutes later another stretch maroon limo with a Cote D'Ivoire flag comes roaring up and who gets out, none other than the President of the Ivory Coast (below). The crazy one who lost the election and refuses to leave. I was giddy as a school girl about being right as we snapped a few pictures.


All of a sudden there was a lot of movement and several new limos came up and many African heads of state started piling into limos one by one. I'd be lying if I said I recognized any of them by face but each of their cars had the flag of their country on it. We saw the president of Rwanda, Zambia and then the President of Equatorial Guinea who is a notorious thief. He's the guy whose son just placed an order for a $300 million yacht or something outrageous like that. The whole damn country is dirt poor and the Presidential family steals all the oil and aid money they receive-typical but still what a joke!


Then the Zimbabwe people started stirring and I was all pumped as I would recognize Mugabe in a second. He looks old and looks like a toad. Then he came out (immediate above and below) with more security than all other African Presidents combined. I snapped a few pictures as we were literally 8 feet from him. Then when they drove by, they nearly ran over our toes and we could've touched the car.


I just want to be clear that I do not support Mugabe in any way, shape or form and have written about what a horrible and ruthless tyrant he is. That said, when you're not expecting a pile of Presidents to be somewhere and all of a sudden there is a huge summit going on right at your own hotel, that's pretty cool and a huge added bonus. I had previously been in a nice hotel in Bamako, Mali in 2009 and saw the President of Mali, again not intentionally but was cool but not nearly as cool as seeing Mugabe and the others.
So after that, I was pumped. I was sure we were going to get Somaliland visas, if we could find the place. There was a lot of confusion about the location of the liaison office in Addis Ababa. There were conflicting reports on the Internet and even some very detailed steps on how to get to the wrong place. Strange yes, but this is Africa.
Additionally, I was told on Thorn Tree by a guy who was just there that the office was closed on Fridays due to a Muslim holiday. I happened to be there on a Friday and it would be my only chance to get the visa as we have a tight schedule. So I basically decided that we would find the office, and I would either bang the gate down until someone opened it or find a security guard and pay him to call the ambassador to issue us visas. I figured we had about a 30% chance of success.
After printing out detailed directions from several different sources, our cab driver was finally able to locate the liaison office. It is located right next to the Mozambique Embassy and not the South African Embassy, but the South African residence and for those that know Addis, you take the big right just before the Meridian Hotel on Bole Road and go about 500 meters and left down the dirt road a few meters then immediately left and you'll see the sign.


The driver pulls into the driveway and the gate opens up immediately. I was all pumped up and ready to argue until the cows came home but all I said was, "Hi! We are here to get Somaliland visas". The security guy points straight. I was almost disappointed that it wasn't more of a challenge as I had built up a lot of rationale to use here but none was necessary and after about 20 minutes and $40 each, we had our visas to go to Somaliland, which is the northern part of Somalia. I will explain more about this when I write about Somalia in my next post.
After getting the visas we headed to La Parisienne to get some breakfast, which is the famous French eatery for pastries and croissants right off Bole Road. It was very good and we were pumped. Well, I was pumped. I think my Uncle was nervous that we were actually going to Somalia! Next up we had to figure out our tickets and how we are getting there and back etc.
I'll spare you the gruesome details but we sat in the three different travel agency offices trying to figure out the logistics of our flight and other details for 3 hours and were unable to figure it out. As it turned out, the only agent in Addis who could issue tickets on Daallo Airways had no idea what she was doing and proceeded to argue with me for 2 hours about whether or not I could get a visa on arrival if I re-entered Ethiopia overland from Somalia. (There is a massive issue about a double entry visa on arrival at Bole Airport, as in they won't issue it even for more money that I won't bore you with. But it would cause some problems as we didn't want to get stuck in Somalia and longer than we have to, as you'd imagine)
I knew that it wasn't possible based upon the hours of research I'd done and people I had spoken to who had recently done the trip. But she insisted until I finally convinced her there was a 5% chance she was wrong and to call the immigration at the airport and ask them. So confidently she dialed and started yapping in Ethiopian until I started to see the smile fade away from her face and then she hung up and said they no longer issue visas on arrival at the border because of all the illegal Somali refugees that come across. Then she paused and insisted they used to.
I was almost out of energy at that point and just said you're right lady, now let's get these damn tickets. Then she goes, I have to leave for the bank before it closes, my colleague can help you. I'm like, "Uhhhh, OK but you know exactly what I want". To no avail as she split. Then when I wrote what I wanted for the colleague that didn't speak good English, she says she doesn't know how to book Daallo flights and I have to come back tomorrow or wait 2 hours for the other lady to get back. Fuck that I thought and I wrote down what I wanted her to book for us and told her we'd be back at 10am the next morning to pay for them.


As luck would have it, she did and it only took another hour the next morning to issue the tickets and collect payment and she kept insisting on cash when we wanted to pay credit card. Shocking not in the least, so we paid and now we are ready to go to Somalia and Djibouti!


A couple other notes about my time here in Addis. The picture of the bed and building you see above this paragraph are from the Ethnological Museum of Addis Ababa on the campus of Addis Ababa University. It is a great museum housed in the former palace of the old leader Haile Selasse. The stairs behind me in the picture all the way at the top of this report are meant to signify a step for each year of Mussolini's fascist rule and have been kept as a part of the museum.


They also have excellent food here. Most don't know that they were essentially colonized and taken over by Mussolini and the Italians in the early 20th century and there are many influences of the Italian rule here, much like in Eritrea. From coffee to Italian food, Ethiopia has good gastronomic delights. The two best Italian places in town are Avanti (above), where we ate the second night out by the airport. It is the trendiest and most modern restaurant I have been to in Sub-Saharan Africa in any country; it could have been in any western city. The pizzas and beef carpaccio are excellent. The other place is the most famous place called, Ristorante Castelli. This is where all the top UN. NGO, celebrity types eat when they are here. The Italian owned place has pictures of patrons such as Brad Pitt and Angelina Jolie all over the front of the restaurant and the food is all homemade and excellent. Try the lasagna, it's killer.
Anyway, that is the basics of my unexpectedly busy and productive two days in Addis Ababa. It was really interesting and we got a lot accomplished and even managed to get some rest. The next three days will be back breakingly busy and hot as hell between Somalia, Somaliland, Djibouti and back to Ethiopia before heading to Algeria. I am really looking forward to this adventure and we are literally heading to the airport to fly to Somalia now. Should be quite a unique experience!