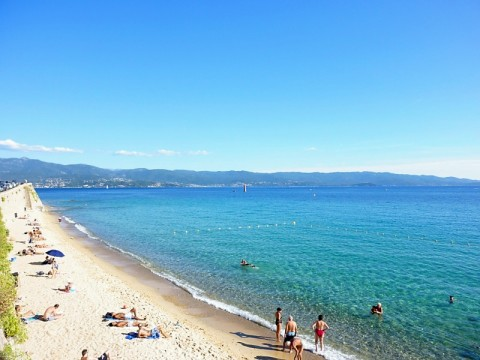 The Mediterranean is awesome. Its distinctive coastlines, mountains, activities, food and people make it one of the best destinations to visit in the world. Of the major Mediterranean destinations, I only have Sardinia to go and I am writing this on the boat there. With that type of experience I can firmly say that Corsica is one of, if not the best, Mediterranean island I have been to. The birthplace of Napoleon Bonaparte is a true paradise as it offers something for everyone and a little bit of everything. It is very reasonably priced in a part of Europe that is never cheap. It has rugged mountains, gorgeous coastline, distinctive food, culture and a language of their own. Most of all, the people were fantastic, the towns were very memorable and the views were to die for.

I started out flying into Ajaccio (pronounced Ahh-Zhaaxx-Ee-Oh) from Paris and staying just out of the main town in a Best Western. The bus from the main road took you right into the heart of town where I spent my day exploring the Napoleonic sites and the gorgeous promenade and marina.


My first order of business was to seek out and find the Maison Bonaparte (above) or the house where the would be Emperor was born and lived until he was 9 or so in Ajaccio. I somehow stumbled upon it amongst the confusing and unlabeled streets and was surprised to see how open and accessible it was from a small back alley type street. The stores surrounding it sold all types of Napoleon memorabilia and the site itself was small and took only a few minutes to view.
Around the old city there are also two other shrines, if you will, to Napoleon: a statue in Place du Diamont (below); and the Grotto Napoleon up a steep and long hill surrounded by an amphitheater of sorts and some clay court tennis courts. Both were pretty cool and worth a visit.


Afterwards I headed to walk around the main shopping streets in town and down to the promenade and marina to watch a stellar Corsican sunset whilst sipping on their hazelnut flavored Pietra Beer which was really good.
As for food, I ate a lot as always and particularly focused on the local favorite called charcuterie. It is essentially a plate of sliced meat hors d'oeuvres that come from specially fed pigs that feast only on acorns and chestnuts. Whatever that means, it translates to very good grub and the local cheeses are fantastic as well. Corsican wine, often given a bad name, wasn't too bad either and I definitely recommend the red over the rosset. I highly recommend the local favorite haunt called L'Auberge Ajacciene which is in the old city near the marina. Still fighting off a little jet lag I headed to bed early and woke up to catch the 8am 3.5 hour bus to Porto Vecchio.
The bus ride to Porto Vecchio was phenomenal and the views were breathtaking. The bus driver drove like an aggressive Italian through the narrow roads and villages with steep cliff drop-offs at every curve. It reminded me of Sicily or somewhere in South America where they seemingly have no regard for human life. However, as usual, we got there and Porto Vecchio did not disappoint.
I was originally supposed to stay in Bonifacio but the prices there were outrageous so I opted to stay 20km or so north in Porto Vecchio which was a great little town. I didn't know much going into staying there but it turns out there is a lot going on and is a favorite of the French jet set. There were tons of little cafes and restaurants dotting the main square. The Centre Ville or town center was up a very steep hill from where I stayed down by the port but was well worth the walk…trudge actually in the searing heat.
It overlooked the whole countryside and cute harbor. It also has numerous alley ways, nooks and crannies to explore. The food is great, reasonably priced and is more Italian than it is French. I recommend Chez Anna for Italian and any of the cafes dotting the square for drinks and or glaces (ice creams).
The only thing I was disappointed in is there is a club in Porto Vecchio called Via Notte which has long been touted as the best club in the Mediterranean. I am not a club person at all but when you have heard so much about one place, you want to see it for yourself (ie Karlovy Lazne in Prague which I don't recommend). I had rented a scooter to scoot out to the beautiful beaches (Santa Giulia) around Porto Vecchio and woke from a nap around 11pm. I reluctantly dragged myself out of bed and got ready to go out. I scooted all the way out there in the cold air to arrive for it to be closed. Apparently it closes for the season August 31st…it was September 3rd…WTF?! I thought but what can you do. I tried. Anyway, so I just headed into the town and had a beer before going back to sleep. They do have some cool and funky little couch bars where Frenchies act like Frenchies in very tight clothes, varietal colored scarves and smoking a ton of cigarettes…call it style I guess!
This morning I woke up early again to catch the 30 minute 8am bus to Bonifacio which is famous in Corsica for its gorgeous scenery and awesome cliffs best viewed from the water. They offer hour long sightseeing boats for only 17 euros so I jumped on that after my last French breakfast before heading to Italy.


The scenery was fabulous as you can see with WWII relics and amazing cliffs, caves and gorgeous water all around. The best was that the boat actually went into the caves and gave you extreme close-ups of the walls and views up through the ceiling holes. Finally, the site of the houses in the citadel over the cliffs was truly awesome. These pictures can't do them justice.
I then headed back into town and onto the Moby ferry to Santa Teresa di Gallura in Sardinia. This is my last country in Europe on the TCC list and I am both happy and sad it's over because I love Europe so much. Not that it will stop me from visiting again or often but it's fun to see new places in Europe. However, there are still many cities, places and islands I can and will see sometime soon but for now; I can't wait to explore Sardinia.
FYI-the connection here in Sardinia is enragingly slow which is why I only posted a few pictures. I will try to get more up when I get to London tomorrow and for my Sardinia post to come as both place are simply awesome.