To say that Madeira is a nice place to be would be an insult. To say the weather here is great would be an insult. To say the people are nice here would be an insult. To say that the Madeira sweet wine is good would be an insult. Are you sensing a pattern here? Madeira is a spectacular island and I have had the most perfect weather imaginable and have met and dealt with the nicest people around. This is an island that all islands should strive to be like.

It is naturally gorgeous and well situated for a perfect temperate but hot climate. It has a warm and welcoming feel and the best part is that it's not very expensive. It is the home of my least favorite soccer player, Cristiano Ronaldo, who was actually signed by Real Madrid while I was here for the largest transfer fee in history which was pretty cool. The papers and the television were all abuzz over their favorite son and his new team. The new Galacticos era has begun at the Bernabeu-hopefully it will be as much of a failure as the last one.
Mt trip to Madeira started a little rough because of the notoriously poorly placed airport right on a sheer, tall cliff that famously had an accident in 1977 where the plane ran off the short runway into the cliff and sea below. Luckily, they lengthened the runway and a 747 could land on it now but it is still on that cliff and the crosswinds are brutal and made for a very intense and treacherous landing that got the people on the plane freaked out and there was a standing ovation when the pilot landed it safely. Looking back now it's kind of funny but a little touch and go there for a while. Luckily it got better!


I am staying in the lovely capital of Funchal which is again, how all island capitals should be. It is quaint, charming and has a lot to offer without all the annoying souvenir hockers and crappy shops and chain restaurants. Funchal is a beautiful harbor town running up a mountain where the Portuguese style roofs dot the mountainside and make the scenery really nice as you can see.


The old town or the main center is where I am staying in an apartment hotel called Da Se which has the quality or even better of a Marriott but only costs 35 Euros which is amazing in my book and included free wifi and a roof deck and bar right behind the main sight in town, the cathedral and a block from the promenade along the waterfront-a perfect location.


I spent most of yesterday walking around the town and the harbor, sampling the local fare along the way of course and made my way up to the long cable car ride up to the small village town of Monte. Monte overlooks Funchal and has a cute little village that is perfect for pictures and the amazing view of Funchal and the sea below. I was lucky to have the cable car to myself so I could just relax and take in the view. I also took a few pictures as well.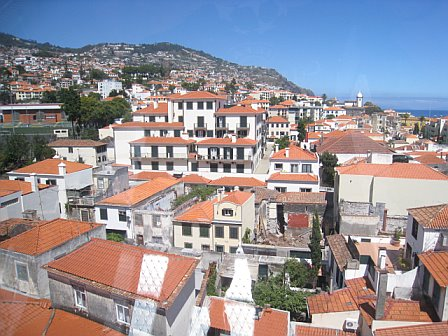 After dark, as on most islands there isn't much to do but the charming little restaurants are open until about 10pm and it's not a far walk to the new area of town where the chain type hotels are located and where the main center of nightlife is (although it's not that good but it's called Lido). It is also home to the Casino Madeira which I was at until about 3am last night and caused me to miss my boat to Porto Santo this morning which is an adjoining island in the archipelago famous for its white beach. Madeira conversely has black volcanic beaches which are really cool to see but not the best to actually be on as they are pretty rocky. So instead today, I happily slept in and walked around town some more and took care of some reservations I've been meaning to do for months now for India, etc.
When I arrived on Madeira I was expecting something similar to Tenerife or Gran Canaria in the Canary Islands but I was very pleased that it has its own kind of style and is very Portuguese. I highly recommend Madeira as a great and cheap trip from Lisbon and it's actually a place where I could spend a week or so exploring the other areas of the island but I have an early flight tomorrow to the Azores. I am very happy here and look forward to coming back one day soon.