As many of you know, I've been working with American Express for a few years now and this is my second year as one of the SPG Amex Stars. For this program, which I am very proud to be a part of, I have to do certain trips and tasks throughout the year using a promoting the Starwood Preferred Guest Card from American Express. Earlier this year, I went to the big island of Hawaii and filmed a few videos for the SPG Amex card. I also went to the US Open for the second consecutive year with Starwood and for my final SPG Amex trip of the year: I took the SPG Amex holiday challenge in New Orleans.


For this SPG Amex holiday challenge in New Orleans, I was tasked with redeeming 70,000 Starwood Starpoints during the peak travel season of the holidays. To do this I first searched what Starwood hotels were in New Orleans and then I decided to go with the Westin New Orleans Canal Place. Aside from a great location right on the Mississippi River (above), it was only 10,000 Starpoints for a free night as a category 4 hotel. So for my peak weekend in New Orleans, it only cost me 20,000 Starpoints and I could use the remaining Starpoints for other amenities during my stay or for future stays!


This was my fourth trip to New Orleans and first time in the Crescent City since 2009 when I popped in for a night en route to Haiti. I was really excited to hang out with some great friends and spend a weekend eating and watching sports; which is essentially exactly what we did!


Arriving at lunchtime on Friday, the first order of business was to get lunch! New Orleans is one of the best places to eat anywhere in the world and Po Boys are possibly my favorite food that New Orleans is known for. So we went to Johnny's Po Boys just around the corner from the hotel.


As you can tell from the photo, we absolutely crushed some shrimp and oyster Po Boys and of course a Muffaletta sandwich and gumbo to boot. Throw in a few Dixie beers and some sweet tea and that's a hell of a lunch!


The best way to follow up an incredible lunch in New Orleans is with beignets and hot chocolate. Beignets are kind of like an English fritter but even more delicious. Café Du Monde is the most famous place in New Orleans to eat them and eat them we did. I got a little more than I bargained for as the waitress spilled coffee all over me-this would prove to be a theme of the day!


After a nap we headed to the Smoothie King Center, yes that's really the name of an NBA arena to watch the New Orleans Pelicans vs. the Minnesota Timberwolves. Our seats were literally just off the court and they cost a grand total of about $24 each…how's that for value? Try finding that at a Knicks or Lakers game!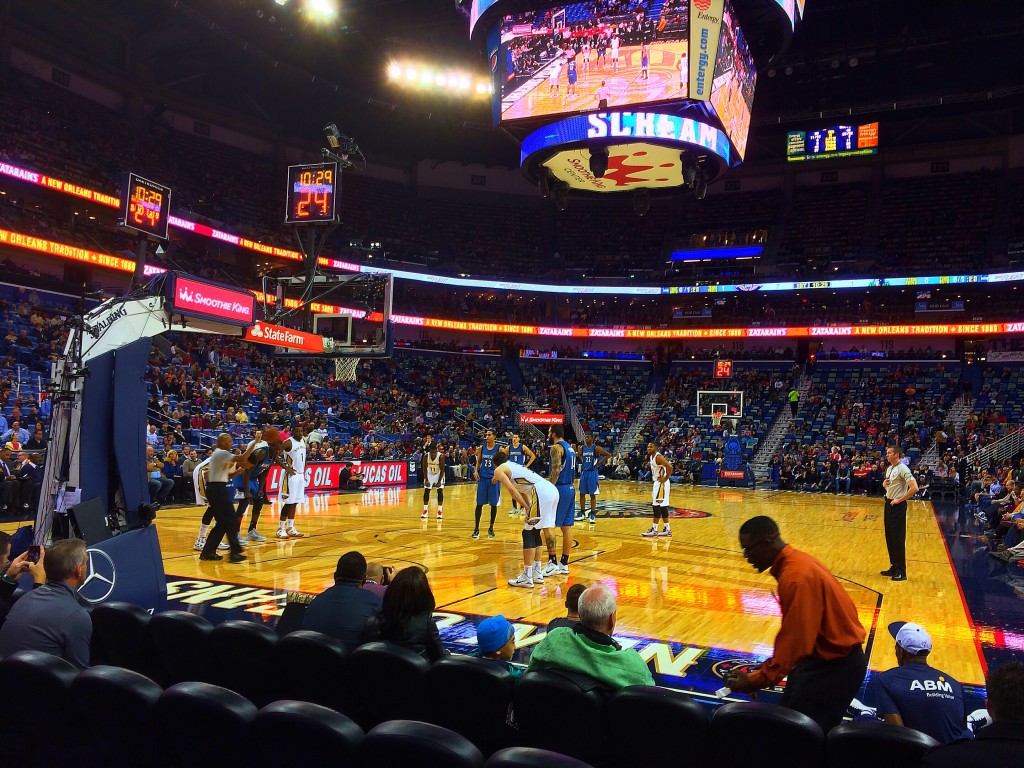 The Pelicans, formerly the Hornets are actually playing pretty well this year and have one of the best young players in the NBA in Anthony Davis. Luckily for me, I was sitting next to a young child who was drinking a very large souvenir soda that was basically as big as he was and yes you guessed it…he spilled it all over me for spill number two of the day.


After the game we headed out to Jacques-Imos; which is a New Orleans favorite and a great recommendation from my buddy Matt; who went to Tulane for college. We ate more than humanely imaginable and were desperately in need of sleep. But not before the waiter spilled water all over me for spill number three of the day-I can't make this stuff up!


Saturday morning we skipped breakfast and headed to the Mardi Gras Museum. I'll be honest, I wasn't thrilled about going and I am not a huge museum guy but this was pretty cool.


Many of the floats they use for Mardi Gras each February are made and stored here. You get a short behind the scenes movie and tour and you are able to try on some authentic Mardi Gras outfits. It's pretty fun!


After working up an appetite it was off to Cochon for the best meal of the weekend. Cochon is a very modern and amazing New Orleans restaurant that is very tough to get a reservation. It's easier for lunch-dinner forget it.


The food at Cochon is legendary and it has literally made its way into my top 10 restaurants in the world-I loved it that much. I highly recommend the ribs and pretty much everything else-and yes we tried just about everything!


After lunch we took a jaunt out to the Garden District; which is where I stayed my first time in New Orleans way back in 1999 when I came to Mardi Gras with my buddy Mike who was with me last weekend as well!


The Garden District is a nice place to stroll around and is probably the most beautiful part of New Orleans. It is pretty famous for its trees, streetcars and cemeteries. While I am never a fan of touring around cemeteries, Lafayette Cemetery is one of the cool ones around the world because of its awesome mausoleums and distinctive look.


For dinner Saturday we went to Pascal Manale's, which has the best oysters and barbeque shrimp in town. The Italian food was OK but not great so stick to the seafood appetizers.


Then we made sure to finish the night off with some jazz at the Spotted Cat on Frenchman Street and a stroll through the French Quarter because you just have to do it. Bourbon Street is what it is and it is pretty cool even if it's cheesy.


Sunday was the last day of our ridiculous food and sports weekend of the SPG Amex holiday challenge in New Orleans ad we ended it in style-at the Superdome for the New Orleans Saints vs. Cincinnati Bengals.


The game wasn't too exciting and the Saints got spanked but it really was fun. There's a reason why the Superbowl is often held in New Orleans. It's a great stadium as long as the lights stay on! That is of course a reference to the power outage during the Superbowl two years ago!


So that was pretty much our amazing and very low calorie weekend for the SPG Amex holiday challenge in New Orleans! All had a truly amazing time and I thank SPG Amex for once again making it happen. I can't wait for next year!