On June 4, 1942 one of the most famous battles in the history of war and the most famous Naval battle of all time was fought on and around a small atoll in the South Pacific called Midway Island. This battle was supposed to be a sneak attack by the Japanese on the unsuspecting Americans. The Japanese would easily have the Americans outnumbered and have more firepower. However, before the attacks the Americans broke the code of the Japanese and were prepared for this planned sneak attack. The Americans were ready and the Battle of Midway has been called the turning point of the War in the Pacific. The outmanned Americans defeated the Japanese and gave confidence to their efforts in the Pacific and damaged the momentum the Japanese had established. Yesterday I was privileged enough to visit Midway Island for the 68th Anniversary commemoration of that bloody day. It was a day that I will never forget, the return to Midway Island.



The charter flight left Honolulu at 10:15am aboard a Continental 737 full with over 150 people. We were met on Midway with press snapping pictures and filming video from both Spain and Japan. What was so interesting about the delegates attending this awesome ceremony was that it contained several veterans from the actual battle of Midway; 2 from the United States and 4 from Japan. They sat side by side as friends when in fact 68 years ago they were literally trying to kill each other. It was a surreal experience for me watching them speak and present wreaths on the monuments of the fallen.


Also, the general counsel of Japan was there along with several high ranking military officials including a General and former Commander of all US forces in the Pacific along with a former Admiral. Again, it was extremely humbling to be among the people attending this commemoration ceremony. We returned from Midway at about 8:45pm on the same charter and the experience certainly made impressions on all.


The history and nostalgia aside, it was incredibly interesting to me because I got to meet so many great travelers of the world. Travelers that are highly ranked on several travel lists including the Travelers Century Club list that I follow and others as well such as MTP. I met a Spanish traveler named Jorge (below), who was a great guy but has a unique way of traveling. He doesn't like to spend any money so the night we arrived back in Honolulu from Midway, instead of getting a hotel room he decided to simply sleep on the floor of the airport even though his flight back to Spain wasn't for another 36 hours. Including Jorge, I met the 3rd, 4th and 6th ranked travelers on one list (after this trip I will be 15th or so). Also, on the trip was a former President of the TCC and also the current Vice President and future President (both of whom I had previously met).


Additionally, there were several other incredibly interesting travelers and military personnel. On the flight down I sat on the aisle and the two people next to me were a father and son. The father served a few years in the Navy on Midway in the late 1960's and the son was actually born on Midway Island. It was really cool for me to be with them as they landed on the island that brought life to their family. I felt privileged and lucky.


Also on the trip was the nephew of the man who the airfield is named after on Midway-he died during the battle but was awarded posthumous medals for his bravery. His nephew represented him at the ceremony and was also aboard a small boat I actually won a raffle on the plane to be a part of over to Eastern Island (above) which is a few hundred meters from Midway. Also on the boat was a woman whose father served in the same outfit as the Uncle and they had actually heard of each others names and that was some coincidence and I felt lucky to be a part of the intertwining history. In a word, my trip to Midway was awesome, even if there was nothing on the island. Luckily there was some really cool and interesting things to see.


If you know anything about Midway, you have probably heard of the Gooney birds and albatrosses that essentially run the island. There are over 3 million Gooney birds and I don't even know how many thousands of albatrosses (below) as well. It is difficult to explain how imposing and amazing the sight of all these birds are.


First, they are not at all afraid of humans. Second, they barely know what a human is because the normal population of Midway is 80 give or take a dozen or so and it is mainly contractors and foreign (mainly Thai) workers. They don't move when you want to pass; and if you are on a golf cart driving around the island and there is a stubborn Gooney hanging out in the middle of a path; the driver has to get out and pick the large bird up and place him on the grass and almost certainly get bitten by their crazy pecking beaks! It was amazing.


Looking out over the open fields you see literally millions of birds sitting on the grass, it seriously looked like Woodstock or a huge outdoor field concert because they just sat and hung out. It was like being invaded by the birds or being in a weird zombie kind of film. Aliens, something, I don't know it was just plain weird and freaky…but really cool too!


Aside from the birds, the rest of the island which is about a mile by mile and a half, contains some old hangars and buildings that are in differing states of being. However, we were told the government just earmarked a few million dollars to rebuild the old facilities to preserve the island as a historical sight and a national wildlife refuge.


Then there is North Beach. North Beach was the officers beach during the war and is located right behind the officers club which we were lucky enough to have a send off reception within its historic doors. The beach was unreal. The sand was white as snow and the water was as nice as anywhere I've ever seen. I couldn't believe it existed on a place like Midway. If Midway was ever allowed to actually host tourists, they would build 5 star hotels on this beach and people would come from all over the world to see it; it's that nice.


Anyway, I could ramble forever about how much fun I had on Midway Island but the bottom line was that it was a humbling and prideful trip. It was surreal to see the old foes sitting together all these years later and seeing the reunion of families with a place that had such a significant impact on their own personal histories. That's pretty powerful stuff and I will always treasure my day on Midway and I will always keep in the top few memories of my cool travel experiences. Finally, I will never forget what it was like to see 3+ million big birds just pecking around the island snapping their beaks at me. Seriously awesome is what yesterday was!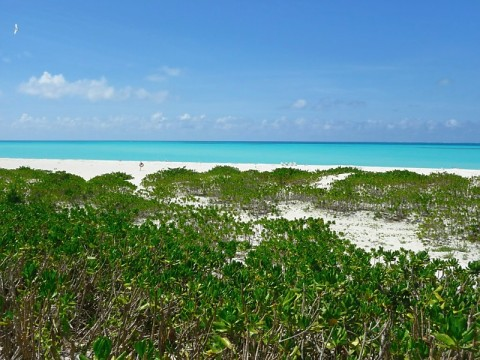 I am back in Hawaii now and will be leaving Friday night for New Zealand for a night then connecting to Tonga…stay tuned.