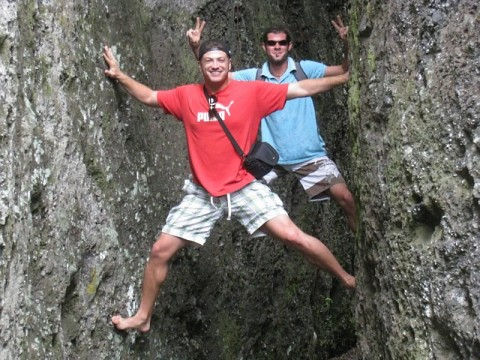 Reunion Island is simply a little paradise in the middle of nowhere. It is not the idyllic beach tropical island that many of its neighbors are but it is a like a mini Hawaii. It has good beaches but the true draw is its awesome natural landscape along with adventure and eco-sports. Throw in the fact that it is French, really French, with all that that brings such as amazing meats, fish, cheese, breads and all other gastronomic delights. After a long time in Africa, this makes for a refreshing and welcome change.

I was very lucky as I sat in the Mayotte airport awaiting my Air Austral flight to Reunion as I realized there were two flights leaving at about the same time. The loudspeaker voice was muffled by poor speakers and my French isn't that good anyway so I asked the people in front of me if that was my flight or not. They said no, they were on the same flight and it was boarding in 20 minutes. So we got to chatting. It was a young couple, Olivier and Joanna and they were very nice.
Long story short, I ended up chatting with them the rest of the time at the airport and then hitched a ride to St. Paul on the east coast of the island when we landed. We went to Olivier's house (below) and after hanging out for a while he offered me to stay at his house which I gladly and humbly accepted. Along with the two of them, his friend Corentin and brother also came to hang out and drink some La Bourbon beers and practice their English. It was a lot of fun and a real Reunion experience.


They took me to this local sandwich shop for dinner in St. Paul which is the second largest town after St. Denis, the capital. They convinced me (it was really tough) to get the Americaine sandwich which consisted of a French bread roll with wonton soup meat without the noodle, French fries, spicy onions and mayo. It sounds weird but it was toasted and delicious. I almost had two it was so good.
Afterwards, we just went back and hit the sack because we were to wake up early as they were going to take me hiking to a secret waterfall. They said you can climb the waterfall and also to a place where you can cliff jump from varying heights up to about 30 meters or 110 feet or so. I was pumped as I like to climb and jump off just about anything!
We parked on the side of the major highway and walked down a random trail for about 30 minutes through some really cool rocks. Obviously we made the most of the natural surroundings as you can see above by the pose. Finally we reached a spot that I can only describe as awesome. It was like a big Roman Coliseum except there were no seats, just high rocks with grooves to climb and jump off into the 6 meter deep water below.
The water was freezing and clean as I dove in to swim to the other side to climb to a safe jump point. I followed them and climbed up to about a 9 meter jump. We jumped right into the freezing water and it was awesome. Olivier's buddy climbed up to about 15 meters and did a jump from there which was pretty awesome. That's about 55 feet or so. Normally, I would've done that as well but it was too cold to jump, climb back and get out again, etc. So we made our way to a gorgeous cascading waterfall.


As we arrived we were the only ones there before a few others showed up afterwards. The waterfall was gorgeous as you can see. Corentin and I decided to go swim up and climb behind and through it. I love doing stuff like that and this didn't disappoint. The climb up the wet rocks is always the hardest part-well actually the climb down the wet rocks is the hardest part and that is where I banged my ankles and knees up pretty good. But it was great fun nonetheless. I am truly grateful to them for bringing me there because it is off limits allegedly and no tourists go there. I never would've gone without them.


After the waterfall, I got my stuff and caught a bus back to St. Denis to check out the city-well town. St. Denis is really nice and again-very French. It is chalk full of great restaurants and ice cream places along with the usual French shops and cafes. The best restaurant I ate at was Le Roland Garros named after the same Reunion born French aviator that the French Open tennis tournament is named for. The airport in Reunion is also named for him.
I had some killer beef tartar. I mean as good as anywhere in Paris and that really made me happy as that is one of my favorite things to eat. After dinner I headed to L'Igloo for some delicious gelato type ice cream and then back to the Hotel Central to catch some much needed sleep. I woke up this morning to hit the famous Patisserie called Le Castel Boulanger which has some of the best chocolate muffins, similar to pain au chocolate, but a little different. Regardless, it was awesome and I went to the airport happy.
I only wish I had more time in Reunion because there is a lot more to offer on this tiny island. There are some great hikes that generally take 4-5 days up to some apparently amazing viewpoints. There is also a great volcano hike that is also a few days but you are subject to the weather. The clouds roll in here generally by 7am. The tourist beaches of St. Gilles and L'Hermitage are packed on the weekends with French tourists doing what French tourists do. Anyway, that's why I decided not to go there as I am not French nor do I understand many things they do! However, it's a very good life on Reunion Island and I hope to get back there soon.
Anyway, I am in the airport in Mauritius on a 6-9 hour delay to Rodrigues Island. Yes another delay and this one is causing my short time in Rodrigues to be even shorter but luckily it's a very small island. Mauritius is my 250th country and I am very excited about that although this delay is preempting my excitement. It has been a busy year for me and nice number like 250 sounds pretty cool right about now. I am looking forward to coming back here tomorrow after motor biking around Rodrigues and just chilling out on the beaches of the Northeast of the island. Stay tuned.