3 Days at Reynolds Lake Oconee
---
I had long heard about Reynolds Lake Oconee in Georgia. It was supposed to be a great golf destination. It was supposed to have a great hotel. Plus, it's a fast growing community located halfway between Atlanta and Augusta. So I was thrilled to finally get down to Reynolds Lake Oconee and check it out for myself. Here's what I did with my 3 days at Reynolds Lake Oconee.
Golf
There are several golf courses at Reynolds Lake Oconee. I was able to play 3 of them during my 3 days at Reynolds Lake Oconee. Each one was a little different. But each was challenging and each was beautiful.
The Landing Course
The Landing is a very pretty 18-hole course with gorgeous houses lining many of the fairways and greens. The course is in impeccable shape with my favorite hole being the short little Par 3 3rd Hole. It's just a wedge over water but it's a really intimidating shot with danger all around.
I also really liked the Par 5 2nd with a great approach into a protected, tiered green. It's a hole that if you drive it well you'll have a legitimate chance at reaching it in 2. I didn't but if I have the chance to play it again with some course knowledge, I'll know for next time to keep the drive to the left.
Finally, the 18th is a great approach shot to a green with nice houses above it. I love holes like this and I ended the round in style with a birdie. My round on the landing was good. I shot in the low 80's although I had a few bad holes that raised my score. The weather didn't cooperate on the front but it eventually cleared up on the back so you could see the true beauty of the course.
The National Course
The National Course is made up of 3 9-hole tracks but we only played 2 of them. We played Ridge and Cove. The other one is Bluff. This was a challenging course with a lot of elevated greens and false fronts. Often times you had to hit up a club to make sure you didn't roll back. Club selection was a constant challenge for me on this course.
On Cove, I liked the Par 3 3rd that was a tough downhill shot that you weren't sure which club to hit. I ended up with a par after driving it over the green and chipping back to save par. The 9th, which had a great approach shot, was also beautiful. It also helped that I birdied that hole! That always helps!
On Ridge, I loved the 2nd hole with another great approach shot. Plus, my favorite on Ridge was the Par 5 8th with a dramatic tee shot. I didn't score well on the National Course but I enjoyed the round. If you're not driving the ball well on National, you're in trouble as I often was-but it's a fun course.
The Oconee Course
The Oconee Course was my favorite of the 3 that I played. It's the prettiest course of the 3 and the most strategic. Plus I scored pretty well including a 39 on the front 9 and if I didn't flub a few irons it could've been better. But that's golf, isn't it? It could always be better if we didn't mess up!
On Oconee it seemed like every other hole was the signature hole. I really like teeing off early in the morning with the morning dew still on the course before the searing sun comes out in full force. The Par 5 1st was a lot of fun to play in the dew.
I also loved the dramatic tee shot on the Par 3 5th; which is a short downhill shot that requires stealth club selection or you're in trouble. Even though I missed a birdie putt I should have made-I loved the hole.
The real signature hole (above) is the absolutely breathtaking Par 4 12th. It looks straight out of Colorado where you have to make a decision whether to hit driver or iron. There's a skinny fairway with a brook running all along the hole with reachable bunkers on the other side. Needless to say, I messed up this hole but really loved the view!
Coming home, I thought 15, 17 and 18 were all just spectacular. 15 is a short, tough Par 3 with a ridged green surrounded by water. 17 is a great Par 5 with stunning scenery around the green. While 18 is a massive Par 4 that requires a long drive and long iron or fairway wood to even have a shot at birdie. It's a great finishing hole with an even better view.
Kingdom of Golf presented by TaylorMade
Kingdom of Golf is essentially everything to improve your golf game all in one place. Plus, it has a lot more than meets the eye. For instance, it's a great place for private events, corporate outings, country barbeques, weddings and other gatherings. But it's mainly about golf.
They have state of the art technology to analyze your swing with top instructors to help you with your swing and your game. As a result of their advice, I changed my stance, bringing my feet closer together and putting the ball further up in my stance. Plus, I also got a new driver that was better suited to my hard swing for better weight distribution. Right away, I started hitting the ball longer and straighter and am very happy with my experience.
Kingdom of Golf also fits clubs for people-mainly do drivers and putters. I had a new TaylorMade putter made after I did all these putting tests on their incredible technology. They basically saw how I normally swing the putter. I'm talking to the exact degree of angle and speed. Then they took that information and basically made me a putter on the spot for proper weight distribution and angles based on my results. I've been putting better ever since and I have a lot of confidence in my new putter. It's amazing how having something constructed for you personally makes such a difference.
I should also mention onsite they have a driving range and some of the best instruction greens I've ever seen. They set up ropes and different things to help you with your putting stroke. In addition, they have pitching and sand greens to help you work on your short game. I really loved it.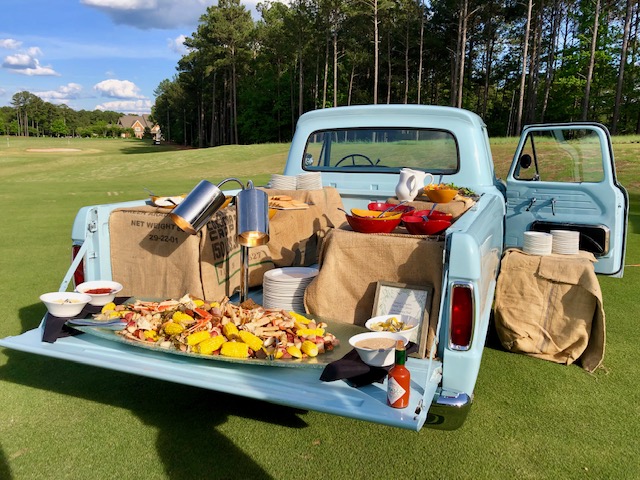 Oh and as I mentioned earlier, they do country barbeques. This happened to be my first ever and after the feast they prepared it won't be the last. Plus, eating out of this classic truck is pretty darn cool!
Hotel
The Ritz-Carlton Reynolds, Lake Oconee is where I stayed during my 3 days at Reynolds Lake Oconee. It's the main hotel and is very nice, as you'd expect from a Ritz property. The service is top-notch, the people are exceptionally polite and you feel comfortably at home.
The hotel has an inviting lobby with an off lobby bar called the Barrel Room that I may have been to a few times. Just off the lobby is a great little coffee shop serving Starbucks coffee that I went to at least twice a day! Downstairs from the main lobby is Georgia's restaurant where I had breakfast each morning. They do excellent omelets and bacon. The servers are very attentive and polite almost to a fault.
The Ritz-Carlton Reynolds has beautiful grounds right on Lake Oconee. I had a great view from my balcony. But walking along out toward to pool you really get a good perspective.
The pool itself is special. It's a beautiful infinity pool overlooking the lake and from certain angles it looks like the pool runs right to the beach and the lake. The temperature is perfect and pool service is good.
Next to the pool is a bar and restaurant called Gaby's by the Lake. It's good simple lunch food. I tried the salads and the pulled pork nachos. I must say the nachos were really good! It's a nice place to have lunch with a view.
For dinner, just a short walk out the front door of the Ritz-Carlton Reynolds is the Linger Longer Steakhouse. It's a funny name to say but the food is no joke. The best thing without a doubt was the bacon. Not just in terms of taste and it was excellent but the presentation was awesome. There's just something about bacon hanging from clothesline pins that I like! The steaks were great too!
The Sandy Creek Sporting Grounds
The Sandy Creek Sporting Grounds are a great place to do things you're not used to doing. At least I'm not used to doing things like archery, sporting clay shooting or fishing. Those are things that you really have to grow up doing to be into in my view. However, it turns out that I am an excellent clay shooter. In fact I have officially retired going 7 for 7 in my shots! I was pretty proud of myself and the instructors were legitimately impressed!
I also did archery for a bit. Archery is fun but it's something I had never done before with a compound bow. It's an unnatural thing for me and it took a few tries but I eventually figured it out and got a few bulls-eyes! They also have fishing and hiking trails but I didn't get a chance to do either. I don't like fishing anyway.
The sporting grounds also have a big barn that they use for events like weddings and outings. It's a beautiful place right on a private lake about 15 minutes drive from the Ritz-Carlton Reynolds but still part of the Reynolds Lake Oconee resort.
They arranged a private dinner for my group over the lake at sunset. Needless to say, it was perfect. The chef did an amazing job with the food. The barman did a great job with drinks. But the star of the show was the view and the tranquility of where you were. It was a nice little change from what I'm used to in New York City!
In Conclusion
My 3 days at Reynolds Lake Oconee were fantastic. It's a bit of a golfers paradise and would be a great place to vacation as well. There is plenty to do for non-golfers as well like a spa that I didn't get to try and lot of activities for kids. Honestly, it was just a really nice, pleasant place and a great getaway. It's what you'd expect from a top southern resort and much more. Next time, my 3 days at Reynolds Lake Oconee will be more like a week!