Yap is an unusual place. Almost all there is to do lies beneath the surface of the ocean yet you don't ever find yourself bored. There's really no beaches like most Pacific islands. The island has a population of about 11,000 although you would never believe that because you'll only see a handful of people. It is famous for its rai or stone money and the filthy betel nut that seemingly everyone, men and women, chews and spits out. It is home to some of the nicest and most easy going people around and oh yeah, they have these amazing corals reefs with the best snorkeling and diving I have seen anywhere on Earth.

After sending emails back and forth for a while with a couple different hotels here on Yap, mind you there are only really three, I got a recommendation from my friend Michael all the way in the Cape Verde Islands, a fellow TCC member, who was recently here in Yap and I decided to stay at the Manta Ray Bay Hotel in Colonia. Colonia is the capital, if you will, with allegedly 1100 people and few buildings although more like longer houses with some shops in them.


The Manta Ray Bay Hotel (above) is easily the best hotel on the island with Traders Ridge a distant second. The reason being it's right on the water, has the best dive shop on Yap, Yap Divers, in the hotel and it boasts one of the cooler bar/restaurants in the world on the attached 100 year old schooner, the SV Mnuw and they brew their own beer. The bar is cool and the moonlight dinners and cocktails are lovely. The food itself is OK, certainly edible, with pretty good poki and mediocre bland pizzas but that's why I travel with Tabasco sauce-it makes everything better!


I set out from Yap Divers in the early morning for a 6 hour snorkeling and dive trip with 3 other German men. They were hard core divers and even had those crazy Jacque Cousteau underwater National Geographic $10,000 push video cameras and were super serious. It was pretty entertaining to me and they were certainly nice enough. Needless to say it allowed me to do my own thing out on the water and I also didn't have to have a guide which was awesome-I hate guides.
To aptly describe the underwater metropolis off Yap would be difficult because I would run out of adjectives like amazing, fantastic, superb, unreal, etc. It was simply the best I have ever seen. There were more types of fish and more colors of fish than I've ever seen before. I wish I had an underwater digital camera to show everyone. Additionally, they had these amazing ridges and underwater coral cliffs with all kinds of nooks and crannies that made for an amazing day underwater. Honestly, I have never had such clear and deep visibility to see everything from the surface down about 50 meters and in front of me like another 100 or so. It was sublime!
I have been to many of the world's best dive and snorkel spots and Yap buries any of them I've seen thus far although I am a little wary to go nuts about Yap. The reason being my next stop of Palau is supposed to be even better so I will lay off the slurping for now so you don't read the same kind of thing twice in a row! However, no matter how good Palau is for snorkeling and diving, Yap will always be amazing and I couldn't possibly recommend anything more than to go swim with the manta rays and amazing arrays of tropical fish…some might even charge at you which happened to me a few times. I couldn't tell you what they were, not sharks, but big and didn't seem to like me peeking into their business. It made it way more fun though.


After the dive we were treated to a nice boat ride around the islands of Yap and were intently followed by schools of dolphins swimming in front of and alongside the boat (above). It made it really enjoyable as dolphins are fun. I didn't get my camera until the very end of them swimming with us because I didn't want to get it wet but trust me, at one point we had like 20 dolphins jumping in and out of the water right alongside us. It was awesome.


After diving I toured around the island and went to see the famous stone money or rai of Yap. They are located in places around the island in what they call banks. These banks are simply places where there is lots of stone money sticking out of the ground. The money can be up to 3.5 meters in diameter and weigh up to five tons and always has a hole right through the middle as you can see. The money does not move even when there is a transaction, it simply changes ownership. This currency was used for a long time and has since been replaced by US dollars. I think that's lame because how much fun would it be to stroll up to the market to buy some bread or whatever and you roll a 2 ton circular rock to the cashier, say thanks and leave-that would be fun! However, I am told that it does serve as currency for some ceremonial type transactions even to this day.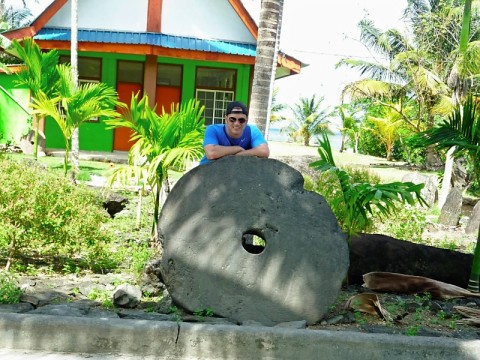 Then there is the betel nut. This is the same crap they chew in India and some other islands in the area but Yap seems to be the most famous for it and apparently it is the most potent kind around. It goes something like this: a betel nut is placed in a Yapese person's stained red mouth and bitten in half to expose the nut; then it is placed inside a leaf; salt is added; tobacco from a cigarette is added; it is placed into the cheek and gum of the person chewing which apparently creates much saliva mixed with red juices from the nut; spitting ensues; floor is stained red and all are disgusted who witness the ritual; it is then repeated hundreds of times a day until either the persons teeth fall out which seems to be the case with many people or they just burn through their gums and cheeks to the blood.
It is a filthy habit and I decided not to post a picture of it as my buddy Ryan requested because it's rude to ask somebody if you can take a picture of their filthy mouths and also it is just gross and I'd like to spare everyone! Oh and one more thing about betel nut, apparently the reason the floor in the airport is red is because it hides the stains from all the workers spitting red juices everywhere…yup that's gross.


Yap, the island of stone money is an awesome place in a great part of the world. There are several other islands in the Federated States of Micronesia including Chuuk, Pohnpei and Kosrae which I will briefly be stopping at plus the Marshall Islands on my way up to Hawaii next week. I wish I could spend more time on all of them but these flights on Continental Micronesia are a pain. However, yap is universally regarded as the best one to visit and I highly recommend checking it out…you know, if you happen to be in this part of the world! I leave for Palau tonight for four days, stay tuned…