How to see the gorillas in Uganda
I saw the film 'Gorillas in the Mist' growing up and knew wanted to see gorillas in real life someday. In 2010, I saw the Silverback Gorillas in Rwanda. But that experience had always left me a little unsatisfied. The weather was so miserable. Plus, I was unprepared in many ways for a long, wet hike. So I was always eager to return to the region. I wanted see the gorillas in Uganda because of the allure of Bwindi Impenetrable National Park. Here is my story and useful information on how to see the gorillas in Uganda.
Where can you see the gorillas?
In general, you can see the gorillas in Rwanda, the Democratic Republic of the Congo (DRC) or Uganda. In Rwanda you'd go through Volcanoes National Park. In the DRC, you'd go through the town of Goma. Finally, in Uganda you go through Bwindi Impenetrable National Park.
Which country is best to see the gorillas?
The best country to see the gorillas is of course a matter of personal taste. However, the answer for me is Uganda. The reason is that the DRC is the DRC and can be very unstable. It's true that gorilla tourism is a significant revenue stream for the government and there are a lot of UN peacekeepers in Goma. But it's still subject to domestic issues including war. Basically, I don't trust everything to go well. I wouldn't stake my dream vacation on the DRC government, etc.
Rwanda was a good experience for me and I hear it has gotten better since I did it January 1, 2010. Again, I had bad weather and was inadequately prepared. I made very poor choices for clothing and footwear. I don't blame Rwanda for that stuff but it does still resonate with me. The other issue with Rwanda is cost. When I did it, the permit cost $800 for an hour visit with the gorillas. Now it's up over $1500 for the experience. That's a lot for an hour in my opinion.
The other issue I found with Rwanda was that I had to climb to extremely high altitudes. We finally reached the gorillas at over 13,000 feet. This took a really long time and a very long day was made worse by bad weather. Remember, once you climb up a mountain, you eventually have to climb down as well. That was misery back down in the cold and rain.
Uganda sells gorilla permits for $600. Still expensive yes; but not too bad considering the other options. Plus, the elevation of the mountains is much lower. You won't go up past 8000-9000 feet tops in Bwindi Impenetrable National Park. This makes climbing easier and nearly guarantees it to be a shorter day.
How to book the gorillas in Uganda trip?
I got a recommendation for a company called Great Lakes Safari Tours in Uganda from a friend who was recently in Uganda. They were good email communicators and offered what I thought were reasonable prices. Plus they organized everything in Uganda for us quickly. I gave them less than 2 weeks notice.
Once I sent them my international flight schedule, they sent me some options for different itineraries in Uganda. I eventually made the decision to do 4 days in Uganda with the priority being the gorillas in Bwindi Impenetrable National Park.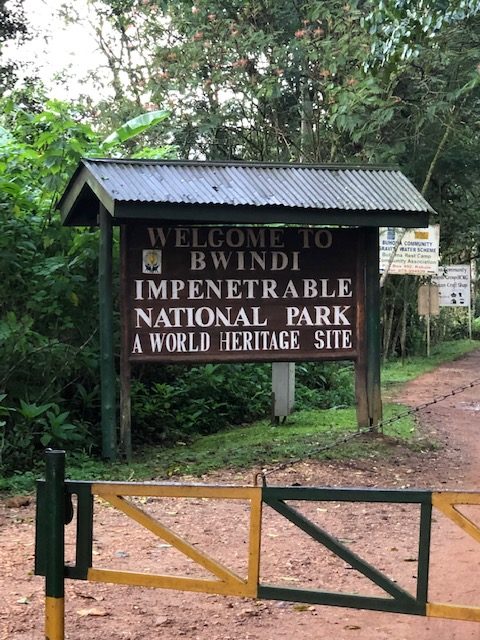 Great Lakes booked the 'complicated to book on your own' domestic flights to Kihihi on a 10-seater bush plane. The round-trip flight with stops each way was around $400 per person. They also arranged the permit to see the gorillas; which was $600 per person. So right there that's already $1000 per person.
Then they booked a lodge for 2 nights and car transportation from the Kihihi airport, 1.5 hours to the Mahogany Springs Lodge. Mahogany Springs Lodge is a very peaceful and pleasant place to stay. It's located at the gates of Bwindi Impenetrable National Park; just 5 minutes from the start of the hike.
The booking also includes 3 meals a day, semi-luxurious accommodations, guides, security and the national park fee. This all added up to approximately another $800 per person. So the final tally was $1800 per person all-in to see the gorillas. Money very well spent in my book.
My experience with the gorillas in Uganda
Honestly, I loved every second of it. The weather was absolutely perfect. The hike was relatively easy, very fun and the guides were excellent. It was approximately 2 hours to find the gorillas. Then we got lucky because the gorillas started to move a lot. This meant we got to follow them; almost chase them if you will. For me, this was an absolute blast. Not everyone loved the difficult jungle hiking but I surely did.
You're supposed to only have an hour to watch and photograph the gorillas in Uganda. However, because they were moving around, we ended up having more than 2 hours with them. We saw at least 10 different gorillas including a silverback.
That's the biggest difference between Uganda and Rwanda in my mind. In Rwanda I saw all silverbacks and in Uganda only one. However, the Uganda gorillas I saw had a lot more personality-doing much more climbing trees and really taunting us.
You're also supposed to stay 7 meters away from the gorillas. However, that didn't occur and some nearly touched us several times. One literally passed by me brushing my arm. It was pretty amazing. In Uganda, the gorilla rules are basically the same as in Rwanda. But they aren't nearly as strict as I recall them being in Rwanda. In Rwanda, we had an hour on the dot with the gorillas then we had to leave. Uganda was more liberal with the rules; which allowed for a better experience in my opinion.
Seeing the gorillas in Uganda is one of the great travel experiences. I can't say enough good things about it. Just remember where you are and be open minded for a rugged hike with a lot of nature. You're in the thickest jungles of Africa with these almost mythical creatures that are so fascinating to watch. So while the gorillas aren't for everyone, as there's no script, it's a magnificent experience that you just have to go with.
Helpful tips for the gorillas in Uganda
Wear good hiking shoes, preferably waterproof shoes with good tread
Bring a pair of carpentry gloves-you'll be grabbing onto branches & prickers
Make sure your camera is fully charged and bring a backup
Hire a porter to carry your bag and bring extra clothes
You're going to sweat-a lot…plan accordingly
Use bug spray
Bring a lot of water
Be prepared for all weather because you never know and it changes quickly
Tip your guides and porters-they're amazing
In conclusion…
Seeing the gorillas in Uganda isn't that difficult or overly expensive but it's not for everyone. For instance, if you're not into raw nature or hate bugs, you may not enjoy it. Also, if you dislike challenging hikes or being out of your comfort zone, it might not be for you. But if you're adventurous, can take a few pricker cuts-you're in for an experience you'll always remember. You cannot go wrong seeing the gorillas in any of the 3 countries I mentioned. But I think you get the best bang for buck and overall experience in Uganda.