Danzante Bay and the Islands of Loreto
---
Danzante Bay and the Islands of Loreto have long been a secret. In Mexico, where tourism is big business, Loreto is relatively unknown to the masses including myself. I've been all over Mexico and at least know of just about everywhere even if I haven't been. However, Loreto was an exception. Smack dab in the middle of Baja California Sur down the long peninsula is Danzante Bay and the Islands of Loreto. What a glorious place. Here are my 4 days in Danzante Bay and the Islands of Loreto.
TPC Danzante Bay Golf Course
The main purpose of my trip to Danzante Bay and the Islands of Loreto was to play TPC Danzante Bay. It's a new course that just became a TPC course last year. This helps with marketing and visibility. I can tell you this-it's a fantastic course and I feel privileged to play it 4 times!
I've played a ton of the top courses in the US and around the globe. Few are as spectacular as TPC Danzante Bay. Every single hole is gorgeous, challenging and just makes you take it all in. Many courses have great views but few I've seen can compare to the totality of great views on every hole.
Each of the 18 holes has either a water or mountain view-or both! The tee boxes, fairways and greens are impeccable. Even the desert rough is well manicured. It's hard to overstate how nice the course is as a whole. I give huge props to the maintenance crew who do an amazing job!
My favorite hole on the course is also my favorite hole that I've ever played. The Par 3 17th is a dream come true for any golfer. It's beyond stunning. Surrounded by water and mountains and attacked from an elevated tee box-you cannot find a better hole anywhere.
I played it 4 times and never birdied it. But the challenge of landing the ball on the green and not being distracted by the view makes it even harder! It's one of the iconic holes of the world that is only now getting its just due. It should be on every golfers bucket list!
To be frank, I don't have a second favorite hole because they're all so spectacular. But if I had to pick I'd probably choose the Par 3 3rd that you have to hit over a massive canyon. The shot is really intimidating, especially from the back tees.
Elevated tee boxes are very common on TPC Danzante Bay. This means you can really hit some long drives that are often running downhill. On 18, a 460+ yard Par 4, I crushed a drive. With the roll, it went right up to the green. That means I technically drove the ball over 400 yards. That's pretty good and made me feel like Hercules!
The course is new and doesn't get a lot of play. I'm told only a couple of dozen (if that) play it each day. It will catch on but for now it's our little secret! It's truly spectacular and I cannot wait to play it again!
Villas del Palmar Resort & Spa at the Islands of Loreto
The official name is a mouthful to say but it's a beautiful property. It's really the best and one of the only options in and around Loreto. My room was a spacious villa that was well appointed including a massive tub, great balcony view and it was very comfortable. The beds are good as is the shower pressure. The only thing lacking in the room is for some reason they don't refill your water bottles. So you have to bring them up from downstairs or call to get more.
Villas del Palmar has multiple pools and hot tubs. I prefer the adults-only pool but there weren't a lot of kids when I was there so even the main pool wasn't an issue. Getting chairs at the pool was also easy which is refreshing for a big resort. No need to run downstairs at 7am and leave something on a chair.
The resort is on Danzante Bay and they offer a ton of activities like different watersports. Plus, they have chairs on the beach and you can just chill. The beach is nice but not a classic white sand beach. However, the views are fantastic.
The hotel also offers ATV rides, hiking, yoga, has a good gym and a massive spa. The spa was a highlight for me. I did a 30-minute massage and then basically just used the facilities. They have a great sauna and steam room. Plus they have hot and cold plunge pools to invigorate your body. Finally, they have pressurized showers, which I absolutely love. The spa is well worth a splurge.
The resort is located a short golf cart ride from TPC Danzante Bay and you can store your clubs with the valet. Plus they offer shuttles to the city of Loreto if you want to check it out. There's not a ton in Loreto but it's still cool to check out.
Lastly, there are 3 restaurants in the Villas del Palmar Beach Resort. The Market is a buffet style place where you have breakfast each morning. The breakfast buffet is pretty good. There are a lot of options and the choices change each day; which is nice.
The dinner choices are OK. It was pretty standard buffet choices but you can always find something you like although I wasn't blown away. Villas del Palmar also offer nightly on-stage entertainment; which is honestly kind of weird but entertaining nonetheless.
Then they offer Casa Mia. This is the sports bar that's a casual but more upscale restaurant. The food here was pretty good. I had both lunch and dinner there and enjoyed it each time. The tacos were really good as was the guacamole. And at night they played the NBA games for us so I was pleased!
Danzante is the fine dining restaurant. It's really nice and the food was good and pretty fancy as fine dining usually is. The service is also top-notch at Danzante and they also had a TV at the bar to watch the games!
Additionally, you can order food at the pool. The quesadillas and nachos were excellent. The only thing was service was very slow because the resort was at 100% occupancy when I was there. I guess that's a good thing for the hotel and the food was worth the wait!
The Islands of Loreto
Without question, the Islands of Loreto boat tour was the non-golf highlight of the trip. The natural beauty of the islands is stunning. Nobody is on them and we didn't see any other boats. We had this incredible world to ourselves. I loved every second of it and I could island hop all day.
We stopped at and on several islands. On one deserted island we did a walk to the top. These views were priceless. Honestly, it's hard to describe it so hopefully the photos can do it some justice although it really has to be seen in person to truly appreciate it.
Snorkeling was outstanding as well. On the same island we were able to snorkel and see a ton of fish and nice coral. I wouldn't put it up there with Palau or Yap but it was a great way to spend an hour or so.
But the highlight of the trip was the wildlife. I'm not joking when I say we saw thousands of dolphins. It was mesmerizing. I've seen dolphins a hundred times but never have I seen this many for this long. It was sea life heaven.
The dolphins were swimming, playing and jumping a lot. Some would come up to the boat and some stayed away so we got a good mix of views. But then we started seeing humpback whales.
Whale watching is a fun thing to do but often times you come up empty. Not in the Islands of Loreto. We saw several and they kept coming up to the top and diving down. It was whale tails aplenty!
If it sounds like I'm blabbering about how great it was: it's because I am. It was that impressive and unlike anything I've ever seen. I commend our guide who went way out of the way to find them all and I'll never forget it.
Getting to Loreto
Currently, the only commercial airline way to get to Loreto directly from the United States is on an Alaska Air flight from Los Angeles. They operate a nice new 737-800. You can of course drive down from California as well but that's a long drive. You can also connect through airports in Mexico too if you're coming from elsewhere. The Loreto airport is small but comfortable and air-conditioned.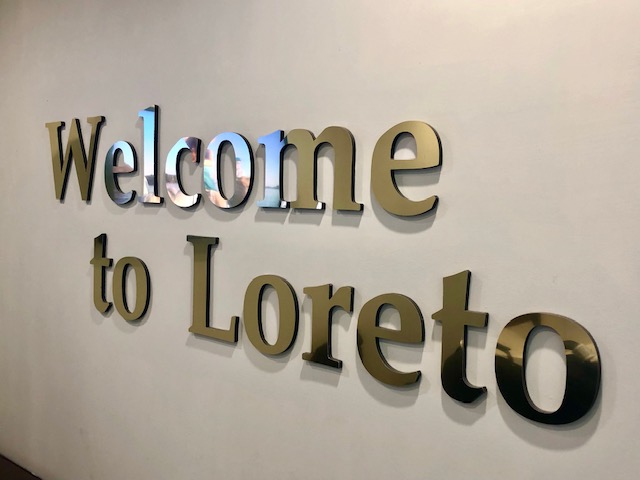 In Conclusion
Danzante Bay and the Islands of Loreto are virtually untouched by Mexican standards and offer a lot to do. It's a great place to come as a family, on a romantic trip or a buddy's golf trip. There's something for everyone and it's a totally different vibe from other Baja tourist spots like Cabo, Rosarito, Ensenada or Tijuana. It's Mexico the way it was meant to be-natural and beautiful.