The last stop of my most recent trip, which took me to Mauritius with SPG Amex before heading to Reunion Island for 24 hours, followed by fantastic Nosy Be, was to Antananarivo, Madagascar. This was my second time in Tana as everyone refers to it. There is not a whole lot to love about Tana but it really isn't that bad as far as African cities go. In fact, I named it one of the 30 best cities in Africa. Here are some suggestions on how to spend a day in Antananarivo, Madagascar.


I arrived into Tana late from Nosy Be at around 10:30pm. I chose to stay at the Hotel Colbert at the recommendation of my boat captain in Nosy Be. I looked it up and it looked nice and was well located. It's probably the best hotel in Tana in hindsight and I'd definitely stay there again-plus it had a decent view. It also had satellite TV; which was great because it happened to be the final round of the PGA Championship-I was pleased!


So my flight to Johannesburg, South Africa where I'd connect to New York was at 3pm the following day. As usual I was up at the butt-crack of dawn and after a so so breakfast at the Hotel Colbert I hired a taxi for the day to drive me around town, to the UNESCO World Heritage Site at Ambohimanga and then to the airport. The whole thing cost me about $30-you can't beat that!


My first stop was the Rova. The Rova can be seen from almost everywhere in Tana and it was a fortified palace that burned down in 1995. You can still visit it now and the views of the city are the best. It's at the highest point of the highest hill in town.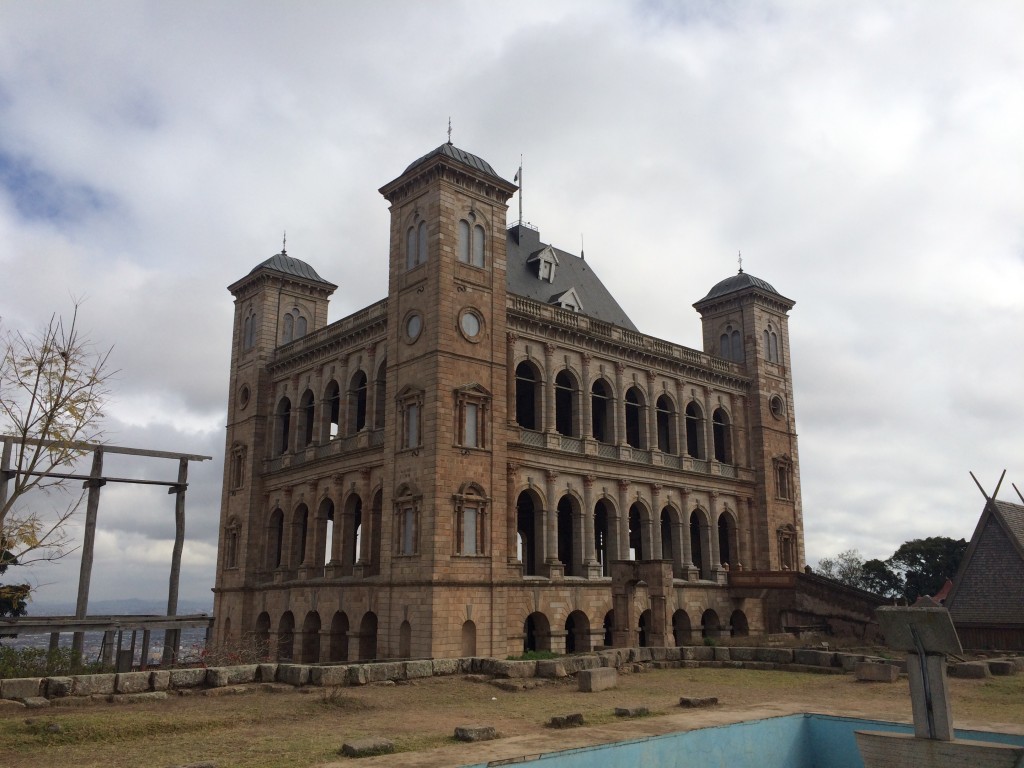 The Rova is a sacred place to Malagasy and there are lots of things that a guide is useful for explaining. They hang outside the ticket office and claim to be compulsory but they're actually helpful and only ask for 10,000 Ariary of about $3.


A few hundred meters from the Rova is the Andafivaratra Museum. It's closed and will always be closed apparently but they love the building in Tana and the guide will likely insist you take a photo of it so I did!


Tana is divided into upper and lower city. Haute-Ville or the upper city is where the nicest things are and the best architecture, government buildings etc. The lower city is pretty gross and the traffic is horrific.


So without wasting too much time checking out the lower city-a mistake I made the first time I was in Tana 6 years ago-we drove out 25km to the UNESCO World Heritage Site of Ambohimanga.


Ambohimanga was the original capital and although the capital was moved to Tana for political reasons, UNESCO christened the site for its cultural significance to the Malagasy people. The site itself was OK.


I'm glad I went because the drive was nice once out of the city and the views of Tana and the valley below were phenomenal. The actual structure of the village and site was not spectacular.


This is often a problem with UNESCO sites. Sometimes they're amazing and sometimes they're total duds. Ambohimanga was somewhere in between but certainly well worth a day trip from Tana for the views alone.


Since traffic in Tana is abysmal you must give yourself ample time to get to the airport and the airport itself is also bad. As usual in Africa, there are multiple levels of unconscionable bureaucracy to deal with so I'd actually suggest getting there 2 hours early even if you've checked in online.


If you do those things in Tana along with all you see just driving around you'll get a pretty good feeling for the city. It's worth noting that Tana is supposed to have some pretty good French restaurants but I arrived late on a Sunday so had to resort to crappy room service at the hotel. There's also lemur and crocodile farms within striking distance of the city-I did those in 2010 and they were OK. So that's how to spend a day in Antananarivo, Madagascar!